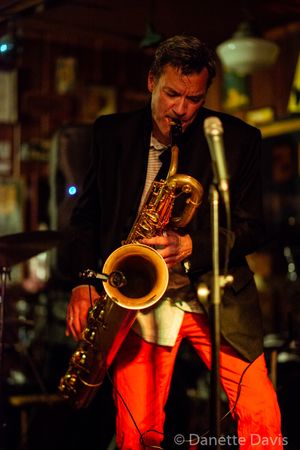 James DeJoie Quintet is 
James DeJoie: Baritone Sax, Bass Clarinet, Clarinet, Flute, Alto Sax 
Steve Kirk: Trombone 
Matt McCluskey: Piano 
Nate Omdal: Bass 
Greg Campbell: Percussion
Moraine
An absolutely stunning band - you ain't heard anything like this! Sporting a lineup of effected woodwinds,electric violin, guitar, bass and drums, Moraine explores sound vistas that will leave the audience gasping.  Featuring original music by Dennis Rea, Alicia DeJoie, and myself, Moraine runs the gambit between sheer, raw musical power juxtaposed with genuine quiet pathos.  
Market Street Dixieland Jazz Band
This is a very hot Dixieland band with a true New Orleans sound.  Cornet, clarinet, trombone, banjo, tuba and drums.  Be sure to check this band out - it's a fun time every time!  (And yes, there are two s's in the name.)
Fundamental Forces
Fundamental Forces is fronted by electric guitarist Rik Wright and longtime co-conspirator James DeJoie, who utilizes an impressive variety of instruments with great facility, including alto and baritone saxophones, clarinet, bass clarinet, and flute. The two are joined by the adept and adventurous backline of esteemed double-bassist Geoff Harper and celebrated drummer and percussionist Greg Campbell. Their collective musical presence is hauntingly beautiful, thoughtful and evocative. Each original composition is a deliberation of a cycle of changes underneath group improvisation that collectively builds intensity, forming vivid and evocative soundscapes along the way. Their performances are often a dichotomy of complexity within simplicity, effectively pulling together the two extremes of acoustic and electric jazz without sacrificing the crystalline character of either.
Super Z Attack Team!
Stick Bass, Drums and Baritone Sax on hyper-overdrive. We can rip speakers! We can fuzz
you out! We can attack with little or no provocation!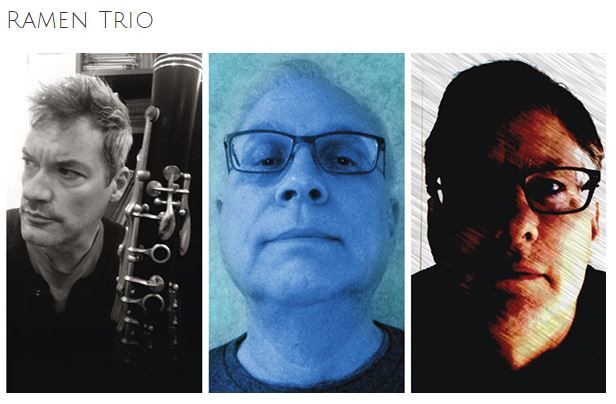 Classical, Jazz, Improvisation
James DeJoie, Doug Lilla, Jay Weaver